Dentist in Port Angeles, WA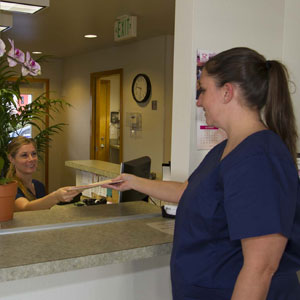 Welcome to Peninsula Dental Clinic!
Are you looking for a Dentist in Port Angeles, WA?
Peninsula Dental Clinic provides families in Port Angeles, WA and surrounding areas with a comprehensive range of dental services. Our staff is experienced in caring for patients of all ages and will take the time to understand your oral health in order to best meet your needs.
Regardless of the service, Peninsula Dental Clinic will give you the professional attention and care you deserve. From routine cleanings to surgical procedures, we go the extra mile to ensure you feel comfortable and at ease. We strive to make every visit with us a pleasant and enjoyable one.
Known for our friendly environment and high-quality dental work, Peninsula Dental Clinic is confident in our abilities to bring out your best smile. To learn more about our dental services or to schedule an appointment, call us today at 360.452.3808.
About Us
At Peninsula Dental Clinic, our knowledgeable staff utilizes the latest technologies to provide superior dental services to kids, adults and families in the Port Angeles community. We are dedicated to giving patients thoughtful dental care in a warm and welcoming environment.
Services
Bridges and Crowns
Cleanings
Dentures
Fillings
Implants
Porcelain Veneers
Reconstruction
Root Canals
Sealants
Sedation Dentistry
Tooth Extractions
Wisdom Teeth Extractions
Reviews
Excellent Hygienist and Dentist! Very informative and knowledgeable and great friendly staff that make you feel at ease.
Thorough, easy access, every 6 months for several years of consistently great dental care. Two of my 3 kids had wisdom teeth out as well. Appropriate health care, friendly office staff and hygienist.
Big Thank You goes out K. Ben Skerbeck, D.D.S.,P.S. and his Staff for many years of Excellent Dental Care. First experience with new Hygienist Hayden revealed a very competent and detailed individual.
Ben takes the time to explain what the problem is, how to fix it, and tells you what he's doing as he's going through the procedure. Excellent work, really pleasant staff, and painless. Did I mention the dental hygienist - she's excellent
Contact Us
Feel free to call us or tap on the link below to be taken to our online contact form.